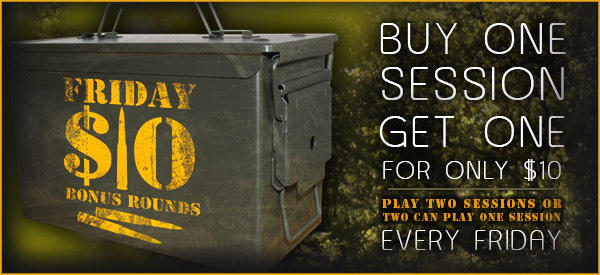 FRIDAY $10 BONUS ROUNDS
After a long, hard week you need to let loose and unwind. That's what Friday is for. A little fun in the sun can go a long way in relieving that weekly stress and kicking your weekend into high gear. That's why we have Friday $10 Bonus Rounds. Buy one session get another for just $10. Use that bonus round to play with a friend or play two sessions in a row. Bring the whole squad and start your weekend with a bang!
Note: Regular priced sessions only.
UNLIMITED PLAY ALL WEEKEND
In town for the weekend or just know you'll be playing a whole lot of laser tag? Our Weekend Unlimited Pass might be for you! For the low cost of $100, you can play any and all sessions for an entire weekend! That's twenty hours of tactical action! It doesn't take playing the whole weekend to make this worthwhile, though, as it's priced at less than the cost of three sessions. So, if you're looking to play for a whole day, this is what we'd recommend. 
REDUCE YOUR SESSION PRICE FOR A MONTH
If you've got a craving for lasers that just can't be beat, you can reduce your per session price with our Month Pass option. Once you've purchased the pass for $80, your session price drops by $15 to just $20 per two hour session. Your discount will be valid for the entire month, so play as much as you can!
FACEBOOK WEEKLY DEALS
Did you know you can save money on your session just by posting on our Facebook? That's right, every week we post deals to make your session times cheaper. They change every week, so the only way to keep up-to-date is to like our page! Head over to the CMP Lake Geneva Fan Page, and see what we have for you this week! To take advantage of the Facebook deals, you must post on our page or on the Weekly Deals image itself.
NOTE: Deals and events listed on this page are only valid for our Lake Geneva location. Not combinable with any other discount, deal, coupon, or offer.