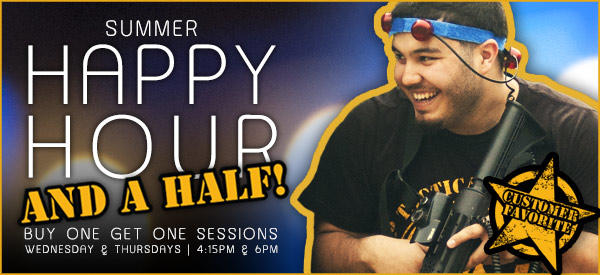 HAPPY HOUR... AND A HALF IS BACK!
Summer's back in full swing and so is this fan favorite deal! During our Happy Hour... and a Half sessions Wednesday and Thursdays you can enjoy twice the action at no extra cost. That's because our 4:15PM and 6PM sessions are Buy One Get One! Use the deal to bring a friend or play twice as long. This deal won't be available forever, so come and get it while it's hot!
Note: Regularly priced sessions only. Members can use this deal to play both sessions, but not to add another player.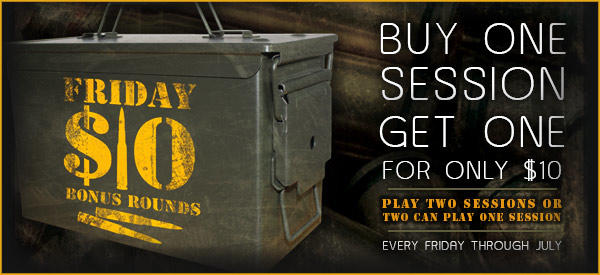 FRIDAY $10 BONUS ROUNDS
After a long, hard week you need to let loose and unwind. That's what Friday is for. A little tactical action can go a long way in relieving that weekly stress and kicking your weekend into high gear. That's why we have Friday $10 Bonus Rounds. Buy one session get another for just $10. Use that bonus round to play with a friend or play two sessions in a row. Bring the whole squad and start your weekend with a bang!
Note: Regular priced sessions only. Members can use this deal, but the "Buy one" portion of the deal will always be the higher priced admission, and the "get one for $10" will be the lower. Same transaction only. Both sessions must be played on the Friday purchased.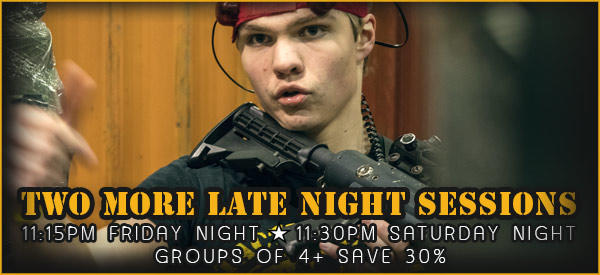 STAY OUT EVEN LATER AT CMP!
We know some of you can be quite the night owls, so we're experimenting with staying open even longer. We've added more sessions to our lineup on Fridays at 11:15PM and Saturdays at 11:30PM in case you need some big late night action. In addition, groups of 4 or more save 30%.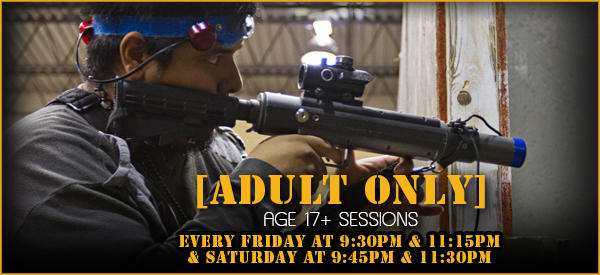 ADULT ONLY SESSIONS
You wanted it, and now it's here! We're happy to announce two "adult" only age 17 sessions every weekend. Play with the big boys (and girls) every Friday at 9:30PM & 11:15PM or Saturday at 9:45PM & 11:30PM.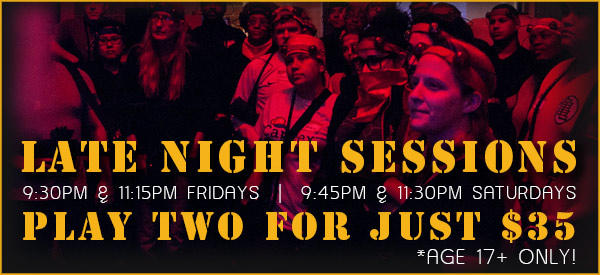 LATE NIGHT SESSIONS
If you're up for some late night fun, then look no further than CMP Tactical. You won't find this kind of excitement anywhere else, and now you can save more by playing into the night. Play our last two sessions on Friday at 9:30PM & 11:15PM or on Saturday at 9:45PM & 11:30PM for just $35 total! 
Note: The these sessions are age 17 "adult" only sessions. You must be age 17 or older to play in those sessions. 
LADIES NIGHT
Ladies, it's time to show em what fighting like a girl really means. Every Thursday get sessions at half the price so you can do twice the butt kickin!
Note: Ladies Night discount cannot be combined with any other coupon, offer, or deal. 
MAY MEMBERS FREE SESSION
Not only do our Members get discounts on their everyday sessions and free tournaments, we also provide a free Open Play session or a Members Only session every few months! This month our members can play an 7:45PM session on July 20 for free! Please be sure to call and reserve your spot. If you're not a member, check out our  Memberships options and become one today!
FACEBOOK WEEKLY DEALS
Did you know you can save money on your session just by posting on our Facebook? That's right, every week we post deals to make your session times cheaper. They change every week, so the only way to keep up-to-date is to like our page! Head over to the CMP Frankfort Fan Page, and see what we have for you this week! To take advantage of the Facebook deals, you must post on our page or on the Weekly Deals image itself.
NOTE: Deals and events listed on this page are only valid for our Frankfort location. Not combinable with any other discount, deal, coupon, or offer. Certain deals may not be available on holidays or other specialty days. Call for more information.